1. Open the stock control area and ensure that the price fields you wish to export are on the stock list.
2. To add price fields to your stock list, right click on the stock list and select Column Properties.
For example:
3. Add the price fields to you wish to work on my moving them from the list on the right to the list on the left.
For example: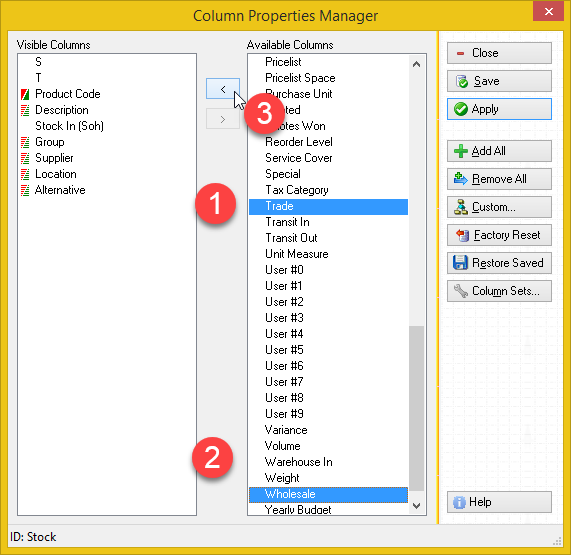 4. IMPORTANT: If you operate multiple warehouses or locations, you must also include the Location field in your spreadsheet. If you do not do this, you will not be able to load your product pricing correctly back into the system. If you are unsure, include the Location column in your spreadsheet anyway.
5. Press Save and OK
6. Right click and select from the menu Export.
7. Ensure that "save as type" is set to Excel Workbook, or if you have Excel installed on the computer you are using, select OfficeLink.
8. Change the spreadsheet name if applicable and press Save.
If you have selected OfficeLink your product file will load into Excel as a spreadsheet. Otherwise manually load your spreadsheet into Excel using the name you assigned it in step 7.